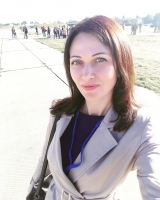 Liubov
Translator
Languages
Ukrainian (native)
Russian (native)
English
Services
Areas of specialisation
Technical
Social Sciences & Literature
Liubov is part of the MaxiWord team. Managers, editors and typesetters work together with her to ensure the highest quality of translation. Our task is to create the most comfortable environment for the translator by providing her with translation environment, auxiliary materials, technical tools, dictionaries and glossaries so that she can concentrate only on the translation process without thinking about technical difficulties and payment. She is not alone: a team actively assists her in the translation process. She has someone to turn to for advice and tips. Upon completion, the translation will be proofread by an in-house proofreader and sent back to the translator for confirmation/rejection of changes.
Alexander Saksonov
, Managing Director and Editor-in-Chief at MaxiWord, is personally responsible for the translation quality.
To experience is to be versatile
I have experience in written translation, consecutive and simultaneous interpreting in military, legal, economic and the election related fields.
My previous experience as a member of a NATO monitoring team fulfilling the duties of interpreter/assistant during the NATO - Ukrainian Air Force military exercise Clear Sky 2018 allowed me to accomplish multiple tasks necessary for the mutual success.
I worked as interpreter/assistant for OSCE, ENEMO STO during elections.
I was doing a simultaneous interpreting during international Investment Forum in Khmelnytskyi in March 2019.
As an assistant professor at the Department of Germanic Philology and Translation Studies in Khmelnytskyi national university I have both practical and theoretical background teaching translation related subjects: translation of legal documents, translation of economic texts, sociolinguistic aspects of translation, military translation, translation of official documents, stylistic aspects of translation.